To see more examples of memorable jobs,
click the button below

Repairing a Botched Brake Job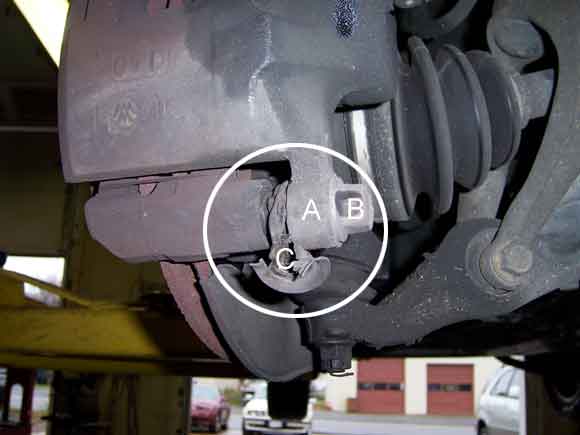 Customer came in complaining about the brake pedal being "spongey". When we checked the brakes we found the brake assembly in the above condition. Item 'C' in the image above shows the "dust boot" which is basically a rubber tunnel through which the pin (marked 'B') is placed before reaching the caliper when replacing the brakes. It protects the lubricated pin from dirt and debris that would otherwise become lodged in the lubrication causing the pin to lock up instead of being able to move freely. This condition is what caused the customer's brakes to stop functioning properly.
The portion of the dust boot hanging down around the bottom of the circle shows the lip of the tunnel that should be pressed up against the part labled 'A' with the pin (marked 'B') going through the lip opening (marked 'C') and then through the rest of the dust boot and into the caliper. Instead, the pin was forced through the side of the boot, puncturing it and exposing the lubricated pin to the dirt and debris coming up from the road underneath the car. This will undoubtedly cause the pin to freeze up again and again in the future and the boot and pin should be replaced to repair the car properly.